PPE Among Several Institutional Efforts

SUNY Poly used 3D printing technology to help mitigate a national shortage of personal protective equipment (PPE) for health care workers by manufacturing parts for face shields, enabled by funding from Oneida County, in addition to receiving PPE provided by the Walmart Distribution Center in Marcy that was also distributed. It's just one of several ways the institution is assisting to help slow the spread of the novel coronavirus (COVID-19), in addition to donating bedding to support area medical personnel.
"I am extremely proud of the SUNY Poly faculty, staff, and students who, through their talents and generosity, utilized our institutional technology to help protect those who tirelessly work night and day to care for COVID-19 patients," said SUNY Poly Interim President Dr. Grace Wang. "SUNY Poly will continue to assist our communities, state, and country through continued, proactive measures to help those most in need during this pandemic, potentially saving countless lives."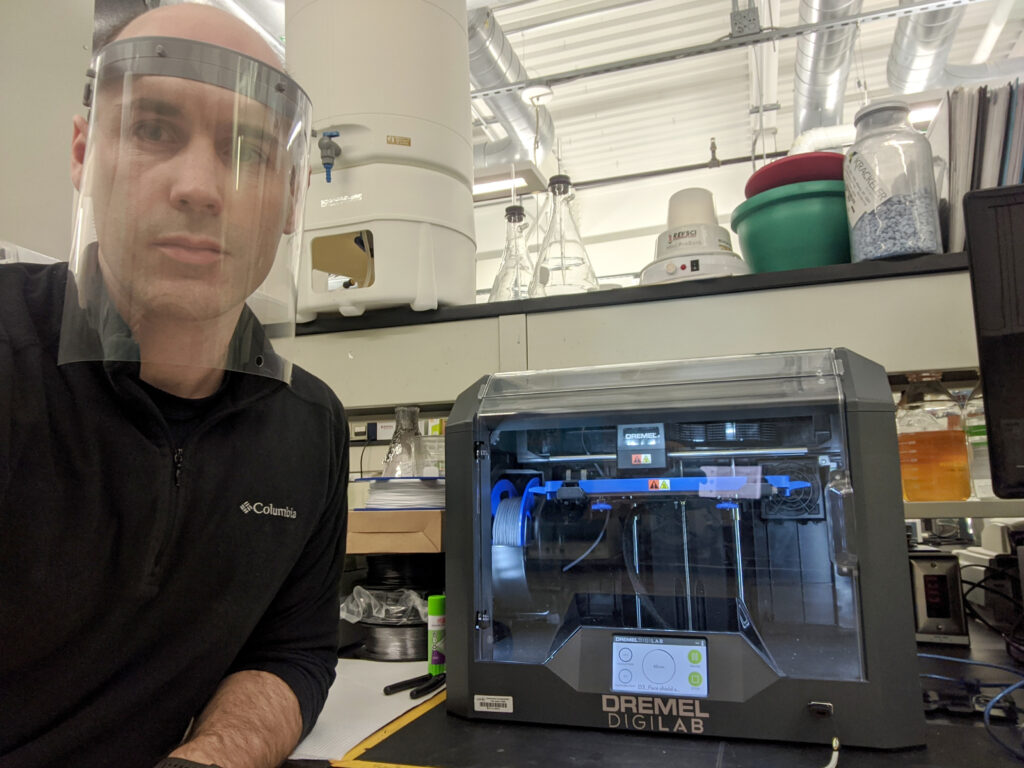 Face shield components were printed 24/7 by SUNY Poly Empire Innovation Professor of Nanobioscience Dr. Nate Cady, who also serves as executive director of the SUNY Applied Materials Research Institute (SAMRI), in Albany. The parts were fabricated based on a design shared by a team at SUNY New Paltz who assembled and distributed the face shields to front medical workers.
"For me, this is a great opportunity to be part of the larger effort against COVID-19, and I am thankful for our partnership with SUNY New Paltz which provided the plans that have been successfully used to print this invaluable PPE," said Dr. Cady. "It means so much to be part of the solution, no matter how small that part may be, and we look forward to helping in any way we can for as long as it's needed."
"The CGAM work is a collective effort between students, staff, and faculty, and it is great to see the SUNY Poly team participating in the larger initiative against COVID-19. Furthermore, as an extension of the SUNY Poly effort, we had also invited the New York State network of FIRST robotics teams to participate in the 3D printing of these designs as they are able from each participant's location."
In response to the latter effort, one of the FIRST Tech Challenge teams, Enderbots 5484, based in Corning, New York, 3D printed dozens of PPE components which were sent to SUNY Poly for distribution to healthcare workers.
Additionally, hundreds of face shields were produced with tools being utilized by Brian Taylor, Manager of Engineering Support Services, and his team at the Albany campus.
Oneida County, who had generously provided funding to help with this initiative, distributed face shields where the need was greatest. The Walmart Distribution Center in Marcy not only contributed PPE for the effort, but along with the Compassion Coalition, also donated refrigerators and microwaves for students in need who remained on campus as a result of special circumstances.