Nursing Program Alumnae Race to the Front Lines

Graduates of SUNY Poly's College of Health Sciences nursing program have been serving on the front lines against the COVID-19 pandemic, assisting in hospitals and testing sites throughout New York State and across country.
Though each nurse's specialty has drawn them to different areas to serve a diverse range of needs, their determination and preparedness as graduates of SUNY Poly's nursing program has called them to be great leaders and heroes in this fight against COVID-19.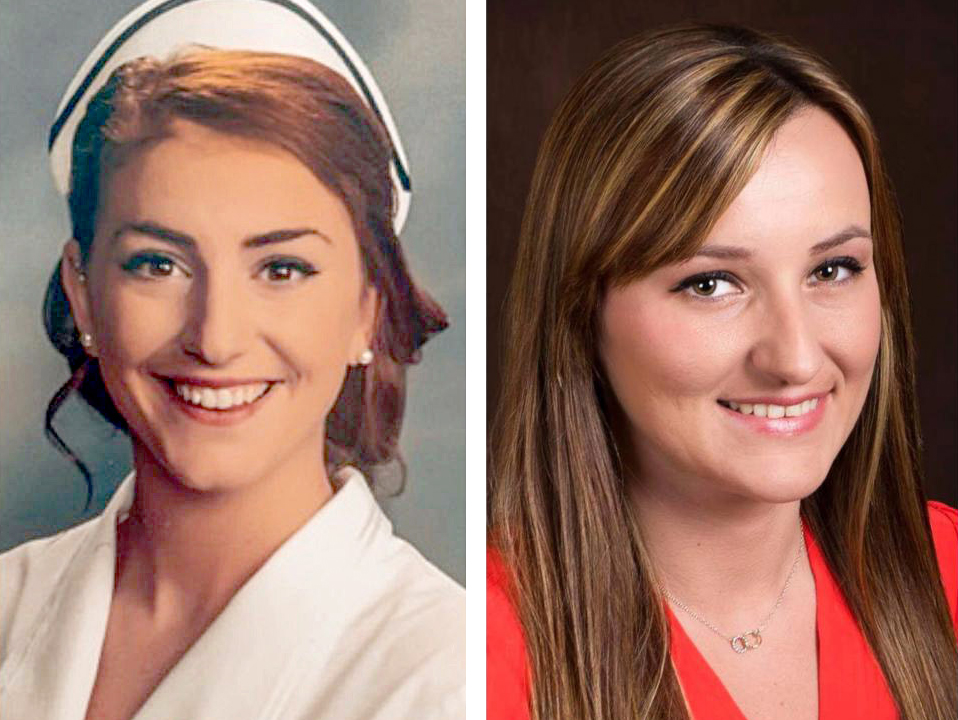 "I feel like one day we just came to work and there was one COVID-19 patient, and the next day there were 15," recalls Ajla Sinanovic '12, BSN, RN, who is the nurse manager for Unit C3 – the temporary COVID-19 treatment area – at the St. Elizabeth Campus of the Mohawk Valley Health System (MVHS) in Utica.
Amid the surge of COVID-positive patients in the Mohawk Valley, Sinanovic and her team were forced to quickly adjust to their new normal of treating patients based on constantly evolving, sometimes twice daily guidance from the Centers for Disease Control (CDC).
"In the first couple weeks, every time we had a patient come back positive, there was a knot in my stomach," she said. "Between everything changing every day, putting our own fears aside to take care of these patients and going home and praying we don't spread it to our families, I think those were the biggest challenges."
Despite overcoming the initial shift in their daily routines, Sinanovic and her team of nurses said they never had difficulty with maintaining a supply of personal protective equipment (PPE), thanks in part to donations from SUNY Poly faculty, staff and students who supplied face shields made with 3D printing technology.
Almost as significant as PPE, she said, were donations of items intended to brighten the day of her staff. Sinanovic said gift baskets, including those donated by SUNY Poly's College of Health Sciences in partnership with Utica Coffee Roasting Co., meant a great deal to those working long stressful hours.
"I have never in my life seen such positive support from the community," Sinanovic said. "My team has become stronger than ever and the nurses, nurse's aides, and secretaries working on my unit have just become even more of a family."
Sinanovic said she was prepared to lead her team through the pandemic with help from the training she received through SUNY Poly's 1+2+1 nursing program in partnership with the St. Elizabeth College of Nursing (SECON) in which students complete 590 hours of clinical time and earn two nursing degrees in four years.
As a new mother during her final year of the program, she was able to resume coursework two weeks after giving birth and complete her degree at her own pace.
"It was just easy to work with SUNY Poly and the local outpatient offices and hospitals to prepare you for what's ahead," Sinanovic said. "You are exposed to things you're going to see so I really enjoyed that part."
Siobhan Conley '17, BSN, worked at the St. Elizabeth campus alongside her twin sisters Sarah and Shannon – also graduates of SUNY Poly's nursing program – before relocating to the Capital District in October 2019.
Utilizing her nursing degree as an employee of a medical hair removal company, Conley's position was deemed non-essential following the New York State on PAUSE executive order and she was furloughed.
Yet, in the face of uncertainty, Conley eagerly reached out to Utica and Albany-area hospitals and testing sites to volunteer to help those recover who are either diagnosed or hospitalized with COVID-19.
She, along with several nurses who are coming out of retirement to volunteer, maintains the desire to improve the health of others who are sick. Conley says it's what any nurse would do even if that means putting themselves in harm's way.
"When my office closed, I thought I should do something as a nurse because there's a pandemic going on," Conley said. "Even without this pandemic, there are a lot of contagious diseases and illnesses we take care of everyday and I knew that's what I signed up for when going into nursing."
COVID-19 testing sites in her area had started to recruit medical and nursing students to volunteer and she hoped to be one of those lucky enough to find a spot on the front lines.
Conley says the fluctuating number of available tests in the Albany area early on challenged would-be volunteers.
"You go there one day and there are lots of people, lots of testing, and the next day they're not testing people because there are no more tests so they didn't need any volunteers," she said.
Conley was hopeful at the time, that efforts by Gov. Andrew Cuomo to increase the availability of testing for both COVID-19 and the antibodies were successful so she would have a chance to treat patients again.
She, like Sinanovic, felt prepared amid the pandemic thanks to the hands-on education she received as part of SUNY Poly's nursing program.
Apart from clinical hours worked as part of the 1+2+1 program, Conley says her most memorable training was received in a pandemic-preparedness presentation through a partnership with SUNY Poly and the Allied Health Partnership New Visions Program through Madison-Oneida Board of Cooperative Educational Services (BOCES).
"It was very interesting," she said. "They invited the public and they had different actors and everyone had to come in to the Campus Center and it was extremely informative."
For now, Conley is helping others the best way she can.            
"I've been going to the grocery store, stopping by my neighbors to ask if there's anything they need so instead of all of them going, it's just me."