2019-20 Athletics Year in Review

The 2019-20 season was full of ups and downs for the SUNY Poly Wildcats. The women's basketball team won yet another NEAC championship, claiming their fourth title in five seasons. Six of the seven teams competing at SUNY Poly qualified for NEAC Championship Events. Twenty-three student-athletes were named to NEAC All-Conference teams. SUNY Poly's student-athletes excelled in the classroom, garnering a 3.19 program GPA. Sixty-eight student-athletes were named NEAC Scholar-Athletes and 121 student-athletes made Academic Achievement Lists. The Wildcats were primed to end their NEAC era with a run at one last President's Cup. But the spring season was cut short by the COVID-19 pandemic. Despite our heartbreak of a shortened season, our Wildcats looked to the future. Despite our heartbreak and the thoughts of what could have been, Our Wildcats must look to their futures, the future of the department, and the future of our country. The next season will feature an exciting new conference for SUNY Poly and a new group of Wildcat student-athletes to make a career of their own.
This year's Wildcat Athletic banquet, typically held in the Wildcat Field House, was held virtually on the SUNY Poly Sports Network (SPSN).  The department gave out 28 awards to Wildcat student-athletes via short video presentations by the coaches and administrators. Among the notable winners were Molly Burdick (Johnson City, N.Y.), who was named the female student-athlete of the year after leading the Wildcats to a second NEAC Title. Josh Gregory (Whitesboro, N.Y.) was named the male student-athlete of the year after his outstanding senior season for the Wildcat men's basketball team. Wildcat cross country runner Joseph Killian (Grand Island, N.Y.) and Wildcat soccer's Felicia Bianca (Guilderland, N.Y.) were named the male and female Scholar-Athletes of the Year. It was Bianca's second consecutive Scholar-Athlete Award. SUNY Poly student-athletes finished with an average GPA of 3.19.  Sixty-four student-athletes made SUNY Poly's Dean's List with a GPA between 3.2 and 3.59. Twenty-six made the President's Achievement List with a GPA between 3.6 and 3.79. Thirty-one made the President's Excellence List with a GPA of 3.8 or higher.
The NAC:
A New Place to Compete
The SUNY Poly Athletics Department is excited to transition to a full-time member of the North Atlantic Conference (NAC) in the 2020-21 season. The change in conference alignment became official on July 1, 2020, after a coordinated effort by the administration of SUNY Poly and the NAC.
"I am thrilled to announce SUNY Poly's transition to the NAC as it will offer our students the added benefit of continued, full participation in collegiate athletics while allowing for reduced long-distance travel and fewer occasions of class absence based on the new divisional scheduling model," said SUNY Poly Interim President Dr. Grace Wang. "The NAC's commitment to excellence, integrity, equity, diversity, inclusion, and well-being is also aligned with SUNY Poly's values and we look forward to a successful future and Wildcat Athletics victories."
"Our Wildcats have found an exciting new home with the NAC," SUNY Poly Athletic Director Kevin Grimmer said. "SUNY Poly intercollegiate athletics will now align with like-minded and competitive programs from New York, Vermont, and Maine. We look forward to working with and playing against the excellent institutions which comprise a solid and welcoming conference. NAC leadership and membership are first-rate and we are looking forward to beginning competition with our new association with the NAC this year."
SUNY Poly will join former NEAC members SUNY Cobleskill and Cazenovia in the transition to the NAC. The move creates a 12-member conference, allowing for a largely divisional scheduling model in most of the NAC's sponsored sports. This model is beneficial for the student-athletes of SUNY Poly, cutting down on travel and missed class time while providing a competitive scheduling model with NCAA Auto-Qualifying bids across the board. Eleven of the twelve varsity sports at SUNY Poly will compete in the NAC in the 2020-21 season.
With the addition of the three new members, the NAC will have a total of 12 full-time member institutions. The members of the NAC are SUNY Canton, Cazenovia, SUNY Cobleskill, SUNY Delhi, University of Maine at Farmington, Husson University, Northern Vermont University-Johnson, Northern Vermont University-Lyndon, Maine Maritime Academy, University of Maine at Presque-Isle, and Thomas College.
Fall
Men's Cross Country
The SUNY Poly men's cross country team had a great season in 2019. The Wildcats finished top-5 in five of their nine races and were the runners-up at the 2019 NEAC Cross Country Championship Race. at the NEAC Championship, the Wildcats were just nine points shy of a championship, placing runners 7th, 8th, 9th, 16th, and 18th. SUNY Poly's Garrett Jones (New Hartford, N.Y.) earned a NEAC All-Conference First Team Award for his efforts. He finished the race in 7th place with a time of 28:00.7. Jake Baisley (Dolgeville, NY) and Jonathon Miller (Oneonta, N.Y.) were named to the NEAC All-Conference Second Team after placing 8th and 9th respectively. The men rounded out their All-Conference Selections with Andrew Pfeifer (Lagrangeville, N.Y.) and Joseph Killian (Grand Island, N.Y.) who were named to the Third Team after finishing 16th and 18th in the race.
Women's Cross Country
The year was a challenge for the defending NEAC Champion women's cross country team. The numbers just were not in favor of the Wildcats who, due to unforeseen circumstances, failed to place in some of their races. The women were able to pull it together when it counted, placing fifth at the NEAC Championship Race in Cobleskill. SUNY Poly's Lauren Phetteplace (Cortland, N.Y.) finished the NEAC Championship race in third place with a time of 25:25.9 leading to a place on the NEAC's All-Conference First Team for the second time in her fantastic two year career at SUNY Poly. Katherine Candels (Tolland, Conn.) was also named to an All-Conference Team after placing 15th overall with a time of 27:39.6. She was named to the NEAC All-Conference Third Team.
Men's Soccer
The SUNY Poly men's soccer team got off to a hot start, winning all but one of their games in the month of September. Their success continued into October where they would face the bulk of their conference opponents. The team finished the regular season with a 12-7 record and fell in the NEAC Quarterfinal 3-0 to end their season.
Seniors Richie Morris (Spanish Town, Jamaica) and Jamar Gayle (Kingston, Jamaica ) combined for 44 points. Morris was the scoring leader with 10 goals and two assists. Five SUNY Poly players were named to All-Conference Teams. Richie Morris and Jamar Gayle were First Team selections, Wakeley Banker (Warwick, N.Y.) was a Second Team selection, and Akeem Shelton (Kingston, Jamaica) and James D'Alessio (Yorktown Heights, N.Y.) were Third Team selections.
Women's Soccer
The Wildcat women's soccer team also earned a NEAC Quarterfinal berth in their 2019 season. They earned the #5 seed with a record of 7-9-1. The postseason came to an end for the 'Cats in the first round with a tough 4-1 road loss. Shannon Harrison (Holland Patent, N.Y.) had a huge season. She scored a career-high 32 points on 13 goals and six assists. Sarah George had a great first season for the Wildcats with 11 goals and four assists. Junior goalkeeper Felicia Bianca also had a career season. She had a career-high 93 saves, a career-best 2.59 goals-against average, and a career-best .721 save percentage. Two Wildcats earned All-Conference honors for their efforts. Defender Quinlan Gowett was a Second Team selection and Shannon Harrison was a Third Team selection.
Women's Volleyball
The SUNY Poly women's volleyball team went 10-17 with a 4-7 NEAC record in 2019. The team barely missed the NEAC postseason but had two notable wins over local rival Utica College. The Wildcats also had success against Canton, Cobleskill, Cazenovia, and Delhi, going 4-0 against future conference opponents. The Wildcats will join the North Atlantic Conference in 2020-21 and will compete against the aforementioned teams. SUNY Poly junior Karlie King was named to the NEAC All-Conference Second Team after leading her team in kills with 278. King was also second on the team with 291 digs, second only to Wildcat Libero Shannon McIntyren who had 412. Setter Kaley Pichura had a solid season, collecting 802 assists which ranked 4th in the NEAC.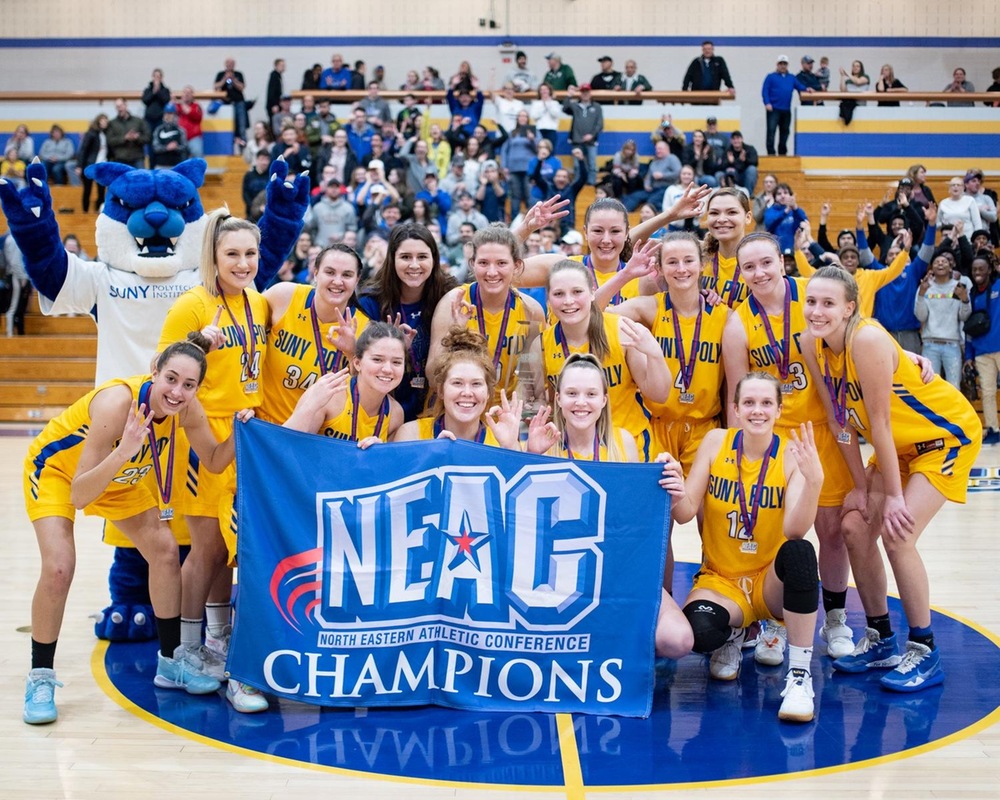 Winter
Women's Basketball
The winter season was a historic one for the Wildcats. SUNY Poly women's basketball team had the best regular season in their decorated history. The team went undefeated (16-0) for the first time in program history. The Wildcats finished their season 20-8, winning the NEAC Championship over Morrisville State at home by a score of 71-58. One of the more impressive statistical notes from the dominant 2019-20 season was the margin of victory over conference opponents. The Wildcats average conference margin of victory over their 16 game conference schedule was a whopping 25.4 points. Their biggest win was a 50 point win over Wells in February. In the postseason the Wildcats beat Penn State Berks in the semifinal 87-73 and beat Morrisville State 71-58 to hoist their fourth and final NEAC Championship Trophy. After earning the NEAC's NCAA AQ bid with the Championship win, the Wildcats drew the short straw in the NCAA Tournament selection show. They were matched up with Tufts University, the #1 team in the nation. The Wildcats would lose in the first round game to end their season.
SUNY Poly placed four players on NEAC All-Conference Teams. Molly Burdick (Johnson City, N.Y.) and Jaida Washington (Elmira, N.Y.) were First Team selections. Kiersten Leos (Camden, N.Y.) and Taylor Aybar (Woodside, N.Y.) were Third Team selections. Molly Burdick was the Wildcats leading scorer with 397 points and leading rebounder with 228. She ranked seventh in the NEAC in points and third in rebounding. Jaida Washinton had an outstanding offensive season with 360 points, but her biggest strength was on the defensive side of the ball. The senior had 86 blocks, which was the best mark in the NEAC and ranked seventh in NCAA DIII. Washington was the NEAC Championship Tournament MVP. She averaged a double-double with 18.5 points per game and 11 rebounds per game. She also had eight total blocks in the two games. Kiersten Leos and Taylor Aybar finished out their four-year careers at SUNY Poly with their third NEAC Championship. Aybar averaged 7.1 points, a team-best 4.5 assists, and a team-best three steals per game. Kiersten Leos ended her career with 1,349 total points, and a three-point shooting percentage just shy of 40%.
Men's Basketball
The SUNY Poly men's basketball team had a fantastic run in 2019-20. The team went 16-10 with a 13-3 Conference record. The regular season opened up with the program's first-ever game against a Division I opponent in Boston University. The Wildcats ended their season with a clutch six-game winning streak to secure the title of NEAC North Division Regular Season Champions and earned a first-round bye in the NEAC Championship Tournament. The Wildcats fell to Lancaster Bible 79-75 in a closely contested semifinal matchup to end their season. Josh Gregory had a team-high 466 points, 225 rebounds, 69 assists, and 27 blocks in the 19-20 season. He was named to the NEAC All-Conference First team for his efforts. Caleb Canty was a NEAC All-Conference Third Team selection after averaging 14.4 points, 3.9 assists, and 1.4 steals per game.
Men's Volleyball
The men's volleyball team at SUNY Poly had their season cut short by the COVID-19 crisis. The team was about two-thirds of the way through their regular season and had just barely scratched the surface of their conference schedule. The Wildcats finished their season with a 5-11 record with a notable win over Elmira. Two Wildcats were named to the NEAC's All-Conference Teams despite the shortened season. Garrett Hassard (Oneonta, N.Y.) was named to the NEAC All-Conference First Team after posting career-best 3.81 blocks per match, 7.1 kills per match, and 1.3 aces per match. Connor Schultz (Lancaster, N.Y.) was voted to the All-Conference Second Team after recording 169 kills and a career-high 82 digs. He was well on pace to break his own single season-best 182 kills, a mark which he set in 2017.
Spring
The spring season started with a bang! The SUNY Poly men's lacrosse team started their schedule with the program's first-ever win over cross-town rival Utica College. Women's lacrosse was 3-1 in their first four games with plenty of season ahead of them. Wildcat softball started their season 2-0 with two big wins over NVU-Lyndon. SUNY Poly baseball was just days away from opening their season in Winterhaven, Fla.
Unfortunately for the hopeful SUNY Poly spring sport student-athletes and the many thousands of student-athletes across the country, the spring season was over before it started. The COVID-19 pandemic put a stop to all SUNY Poly athletic activity on March, 13. Spring break trips were canceled, classes were transitioned to an online environment, and facilities were closed to the public. Seniors lost the chance to have their last-dance in 2020. Thankfully the NCAA issued a blanket waiver to all NCAA spring athletes allowing athletes a re-do if circumstances allow. Some will return to finish their degree next year, some will return as graduate students to pursue their next set of academic goals. Some will never get the chance to finish what they started. Our gratitude for the contributions that our seniors have made to our programs cannot be put into words. They have helped to grow our programs, they have brought home the hardware, and have represented SUNY Poly to the best of their abilities. Thank you to our seniors, we wish all of you the best of luck in your next chapter in life. We hope to see you all back on campus very soon!