Garrett Hassard '20

Why did you choose SUNY Poly?
I chose SUNY Poly because of the small class sizes and because accounting, my area of study, is accredited by the AACSB, which only 5% of universities receive. At SUNY Poly, I am able to get a great education and connect with my classmates, professors, and other faculty members on a more personal level.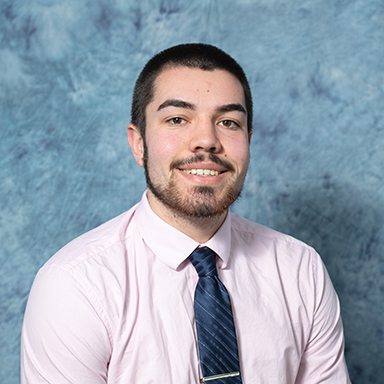 How did you choose the M.S. in Accountancy program?
In high school I was the president of my school's Future Business Leaders of America club, which sparked my interest in understanding what makes a business successful. Since I already had a solid background in mathematics, I found that accounting was a path that I wanted to pursue. I earned my B.S. in Accounting from SUNY Poly in 2020, which solidified my belief that I made the right choice and led me to my current journey as a graduate student in the MBA program.
What has been your favorite class and why?
My favorite class so far is Intro to Forensic Accounting. Since the M.S. in Accountancy is online, I found myself very engaged in the online textbook and learning activities for this course. The material was much easier to understand because I found the subject matter extremely interesting. A close second would be my Tax Accounting class.
What activities are you involved with on campus? Why did you decide to get involved with these activities?
As an undergraduate student at SUNY Poly, I was part of the Student Government at Utica (SGU) and served as SGU Treasurer in my senior year. I was also a student assistant in the sports information office for four years where I was part of the game management, streaming, and live statistics team. Not only did I work in the the athletics office, but I was also a four-year letterman and co-captain of the men's volleyball team. I plan on continuing to play during my years as a graduate student.
For two of my undergraduate years, I was also part of a great group of SUNY Poly students while serving as an orientation advisor. I had a blast helping the incoming class of students transition into college life and make connections during student orientation!
I decided to become engaged in extracurricular activities as a college student to connect with others and met so many amazing people through my involvement. These experiences also helped me grow professionally, personally, and as a member of the SUNY Poly community. SUNY Poly makes it a priority for everyone to be involved with campus life and activities. I felt like if I did not capitalize on these opportunities, then I would be missing out on memories and experiences.
What has been your best experience at SUNY Poly so far?
I have so many great memories and experiences at SUNY Poly that it is difficult to pick just one. I have met a lot of amazing people through my involvement with athletics, student government and student life, and am very fortunate to have had the opportunity to meet all of these people. I am so appreciative of the SUNY Poly community and how it helped me connect with people who I consider to be my best friends.
What is your favorite thing about being a part of the SUNY Poly community?
The best thing about the SUNY Poly community is that everyone wants to see you succeed and help you get to where you want to go. I have had so much guidance during my time at SUNY Poly and I hope that current and incoming students have the same experience as I did.
Story Link: https://webapp.sunypoly.edu/stories/graduate-student-q-a-garrett-hassard-accounting-b-s-20/