Bill Abrams '83: Before SUNY Poly

I'm Bill Abrams '83, an alumni contributor and B.S. Computer Science graduate, of the formally known College of Technology (SUNY Poly). We come from a very different time when it was a rather different college. There were no Wildcats then, except maybe the neighborhood strays behind our apartments. The current SUNY Poly campus in Utica began with Kunsela Hall in 1984, so all of us who finished college in 1983, and before, have probably never seen it. We went to school in the Old Mill, The Potter School, the Engineering Building on State Street, and the Rome campus. See history at: History | SUNY Polytechnic Institute
I'd like to share thoughts about those days and invite others who are graduates from those times to share their memories and experiences too. I invite you to read my post on the SUNY Poly Alumni Facebook page at SUNY Polytechnic Institute Alumni Association – Home | Facebook and tell us about your time at SUNY Poly!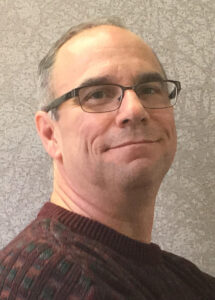 I've been back to Utica a lot in the past 3 years – I have friends there and visit a few times a year. And, of course, I took a drive and a walk to see what's changed. The first thing I noticed is the huge changes in the main roadways. Remember the odd I-790 2-lane connector from the Thruway to the NY 8/12 Arterial? Well, it's now a clever divided 2-way highway that straddles the Thruway—westbound on one side and eastbound on the other. There are big new ramps to make it easier to get in and out as well as to get to the new Poly campus! The arterial was improved too. The section at Court Street was raised with on and off ramps. Varick Street has become disconnected from Whitesboro Street where we used to walk to Potter School and the bottom block of Varick Street is now called St. Marianne Way.
I went to the St. Patrick's Day parade 2 years ago (one of the best in the State!) and found Genesee Street is much the same as it was in the early 80s. Many of the neighborhoods we lived in look the same. You just might find your college apartment is still there, largely unchanged.
I also took a walk on Varick Street to see what I would find. I lived at 611 Varick St. with 3 roommates sharing the entire house. I was surprised to find a restaurant called Zeina's on Varick. Zeina's serves Lebanese food and, according to my friends, it's great. (Editor's Note: see more about this restaurant, and how a SUNY Poly education has allowed Elias Zeina '17 to support his family's restaurant business: Elias Zeina Business Administration B.S. '17: SUNY Poly Allowed Me to Support My Family's Business Through an Affordable, High-Value Education | Stories)
As I looked around more, to my amazement, I saw that Varick Street is reinvented. The Brewery is still at the top end, but the rest is a vibrant street of restaurants and nightlife. Live music spills out of the doors and from outdoor stages. It is so popular on St. Patrick's Day that they park giant snow plows at either end to prevent cars from entering so it is one huge street party.
I hope you'll join me and Ron Sarner (see faculty perspective below) on the Alumni Facebook page and share your memories.
A Faculty Member's Perspective
For Ron Sarner, Computer Science Distinguished Service Professor, it was a great trip down memory lane to read Bill Abrams' letter reflecting on the early days of our college. Though I probably haven't seen Bill in more than thirty years, I remember him well; he was one of the early graduates of our young computer science program. As Bill stated, he graduated in 1983, and at that time our department was part of the Arts and Sciences division that was housed in the old Potter Elementary School. While much has changed, it inspired me to share some of my memories as well.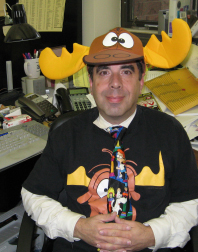 Our building was just down the block from the Hemstrought's bakery, and I vividly recall walking down there between classes to grab a cinnamon bun. The bakery building is long since gone, but the company is still well known in the Utica area for their half-moon cookies.
When I think of the early 1980s, I remember the computing environment of the time. Our minicomputer system, filling a whole room, requiring special electric connections and separate air conditioning, is laughable by today's standards. The Digital Equipment Corporation PDP 11/45 that we purchased for close to a quarter million dollars was less powerful than today's typical cell phone. Maxed out with 256K memory (that's kilobytes, not megabytes, not gigabytes), it had a disk drive the size of a top load washing machine that could store a whopping 176 megabytes (a typical stick drive today is many times that storage capacity), cost about $40,000, and had a removable disk pack that cost over $1,000. Maintenance on the drive alone cost close to $4,000 a year. The system was capable of supporting 32 simultaneous users with absolutely no graphics or sound capability whatsoever! We were so proud of it.
Close to that time we purchased our second computing system, a Zilog System 8000 that cost about $30,000. Smaller than a desk, it supported eight simultaneous users, and I vividly remember it being used to teach COBOL for a number of years. It had a 16-bit processor, again less powerful than today's cell phone. But its reliability was amazing. We had it plugged into an uninterruptible power supply and it ran for close to three years without ever being taken out of service. We've sure come a long way.
Of course, when I think of those times I think of my colleagues. Some (Bruno Andriamanalimanana, Roger Cavallo, Rosemary Mullick, Jorge Novillo, and Sam Sengupta), like me, are still at SUNY Poly doing what we so very much enjoy doing—teaching. Mike Pittarelli left academia and works in private industry nearby in Rome. I also think about some who have passed on. From that era, our colleague David Nickerson moved to San Diego to teach at a college affiliated with his church, but unfortunately succumbed to cancer a few years later. Our colleague, Evi Nemeth, left us for the University of Colorado-Boulder, where she became a world expert in the area of UNIX security. Evi subsequently retired and went on an around-the-world trip on her sailboat, which was unfortunately destroyed in a storm and she presumably went down with it. Mary Planow was a phenomenal teacher and great colleague who died all too young. Ray Jesaitis stayed until his retirement after serving as our department chair and later as our Dean. As happens all too often, Ray died shortly after retirement. For a young college in a small upstate New York city, we had an amazing group of faculty.
From that era I also think of Bimal Roy who joined us as a 24-year old assistant professor after receiving his doctorate from the University of Waterloo in Canada. He stayed with us for a few years and accepted an appointment at the Indian Statistical Institute where he became an internationally renowned scholar in the field of data security and cryptography. He is the recipient of Padma Shri, India's fourth highest civilian national award. Bimal subsequently did a stint as a visiting professor in our department and comes back every year or two to do guest lectures.
Sweet memories…Bill, thanks for making me reflect upon them.
We look forward to hearing more about the memories of all our alumni. If you would like to share your story with the Alumni Association, please email alumni@sunypoly.edu.