Julia Jaikin '16

Dr. Julia Jaikin is currently practicing as a chiropractor at Central New York Spine & Rehab, a multi-disciplinary clinic with neurologists, neurosurgeons, and pain management doctors.
Why did you choose to transfer to SUNY Poly?
When I graduated from Herkimer Community College, I was torn between SUNY Poly and Gettysburg College. That all changed when I stepped onto SUNY Poly's campus. I fell in love with the location, the size, and the Wildcat Field House. The campus felt like home and it helped that I was only an hour away from my hometown. The small class sizes were also a huge bonus. I loved that all of my professors knew me by my first name and not just another face in a lecture hall.
How did you choose your major?
Growing up, I have always wanted to help others. Psychology was a great way to understand the human brain and how we act/feel certain ways. I knew that if I understood how people felt and why, then I could give them the best care.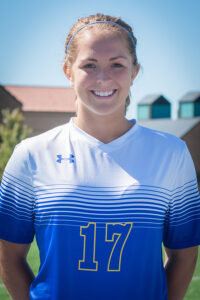 What was your experience like as a SUNY Poly student-athlete?
My experience as a student-athlete at SUNY Poly is unforgettable to say the least. I was privileged to have the opportunity to play college soccer—not many people can say that. I found balancing soccer and my studies quite manageable thanks to all of the educational resources SUNY Poly has to offer. SUNY Poly is a smaller university and the athletic community was very tight-knit—being a member of that community was rewarding. Every team on campus got along with one another, making my experience that much more enjoyable.
Did you receive any awards during your time at SUNY Poly?
Female Scholar Athlete of the Year Award
What was your favorite class?
Aggression and Nonviolence with Dr. V.K. Kool
What activities were you involved in on campus? Why did you decide to get involved?
I was a member of the Student-Athlete Advisory Committee (S.A.C.C). I decided to join S.A.C.C because it was a great way to give back to the community surrounding our campus.
How did your experiences at SUNY Poly help you get where you are today?
I learned a lot during my time at SUNY Poly. I think the hard losses on the soccer field and my competitive nature helped me work even harder in medical school to succeed. Soccer helped me build a strong work ethic with a "never give up" attitude. The professors I met at SUNY Poly helped point me in the right direction towards my career and I've never looked back. I am so thankful for the experiences and the people I met along the way.
What is your favorite SUNY Poly memory?
I have so many! A lot of my favorite memories come from my most challenging classes that I took at SUNY Poly. The feeling and reward of completing a big paper or project is unmatched.