Alumni Directory Project

The Project
The Alumni Association has collaborated with Publishing Concepts, Inc. (PCI), to create an oral history of SUNY Poly that will record our shared connections.
Alumni are invited to share their personal stories for a book that will preserve the rich history of our college, as told by those who have lived it. Don't miss this opportunity to tell your SUNY Poly/SUNYIT story, capture memories of favorite professors or celebrate classmates. These stories will be preserved in a book that celebrates the impact SUNY Polytechnic Institute has had on your lives and who you are today. Our alumni each have their own distinct story and that is what makes the university a special place. This is a collaborative and unique look at the history of our institution, showing how the past helped shape the future.
Have You Moved?
As part of this project, we are also taking this opportunity to help make it easier for you to stay connected to SUNY Polytechnic Institute. PCI will help us collect updated contact information from those of you who may have moved and inadvertently lost touch with your alma mater.
Your Story
What story will you tell? Can you trace your career path back to a defining moment at SUNY Poly? Did a special faculty or staff member have a profound impact on your life? Have connections you made on campus turned into lifelong friendships? Were you on campus during a historical moment?
PCI Partnership
What better way to recognize our impact as a community than to share our personal narratives? PCI will be contacting you shortly to update your information and ask you to contribute your memories. They will also have a few questions to evaluate your engagement preferences with the college.
We hope you will take a few minutes to answer their call and support this important project. Please note, we have shared your contact information with PCI for this project only. We have not sold your contact information, or otherwise used it for outside marketing purposes.
Do I Have to Buy Something?
No. The collection of stories will be available for purchase from PCI; however, you are under no obligation to make a purchase to contribute your oral history. This project is at NO COST to the SUNY Polytechnic Institute Alumni Association. For those interested, various book packages will be offered along with SUNY Poly branded merchandise. Thank you in advance to everyone who chooses to support this project with your story and/or your purchase.
What's Next?
Soon you will be receiving email and postcard communications from the PCI team with instructions on how to participate. We'd like to invite you to share one of your stories with us and take part in this first of its kind project to honor the experiences and voices of our alumni. The PCI team will collect stories until March 12, 2021. After that, they will enter a post-production phase editing the data. We hope to have the book distributed in September 2021. We look forward to hearing from each and every one of you regarding your memories.
What to Look For
Below is an example of a postcard you will receive in the mail. This postcard is distributed by our partner PCI on behalf of the SUNY Poly Alumni Association. Once you receive the postcard, please follow the instructions to update your information and set up an interview time to share your stories.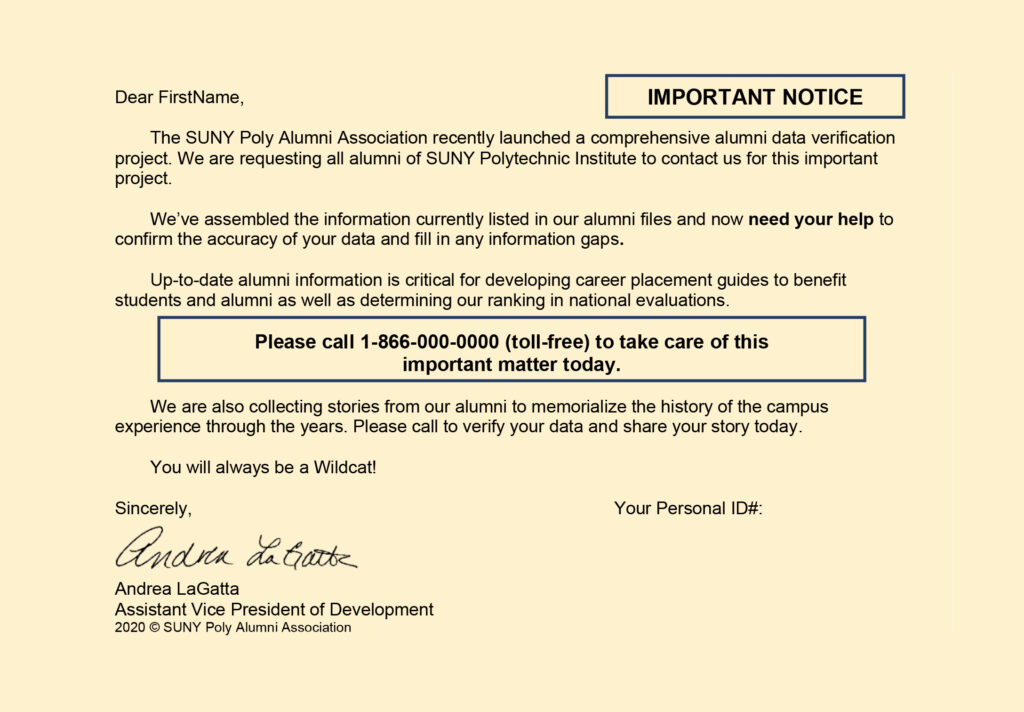 Next is an example of an email you will receive in your inbox. Once you receive the email, please follow the instructions to update your information and set up an interview time to share the memories of your alma mater. If you do not receive it, please take this opportunity to call PCI at 1-888-835-2076 and update your contact information so we can stay connected.