Dr. Hisham Kholidy Receives $1.1 Million Contract from Air Force Research Lab to Improve Security Across 5G Open Architecture

Largest single-investigator award in Utica campus history 
SUNY Poly Associate Professor and Chair of the Network and Computer Security (Cybersecurity) Department, Dr. Hisham A. Kholidy, has been awarded a nearly $1.1 million contract from the Air Force Research Laboratory (AFRL) for a 36-month project that will help address the need for an advanced security system that can identify, assess, and protect against attacks across the 5G open architecture in a timely and accurate way without human intervention. 
5G is anticipated to play an important role in global economic growth and technological development for numerous stakeholders, and Dr. Kholidy notes that the Department of Defense (DoD) has identified 5G security as a critical area for national security. The proposed research investigates mechanisms to protect 5G open networks, meet resilience requirements, and minimize damage from attacks that may occur. The contract is not only significant in its total amount, but also because it is the largest single-investigator award ever received at the SUNY Poly campus, located in Utica, New York.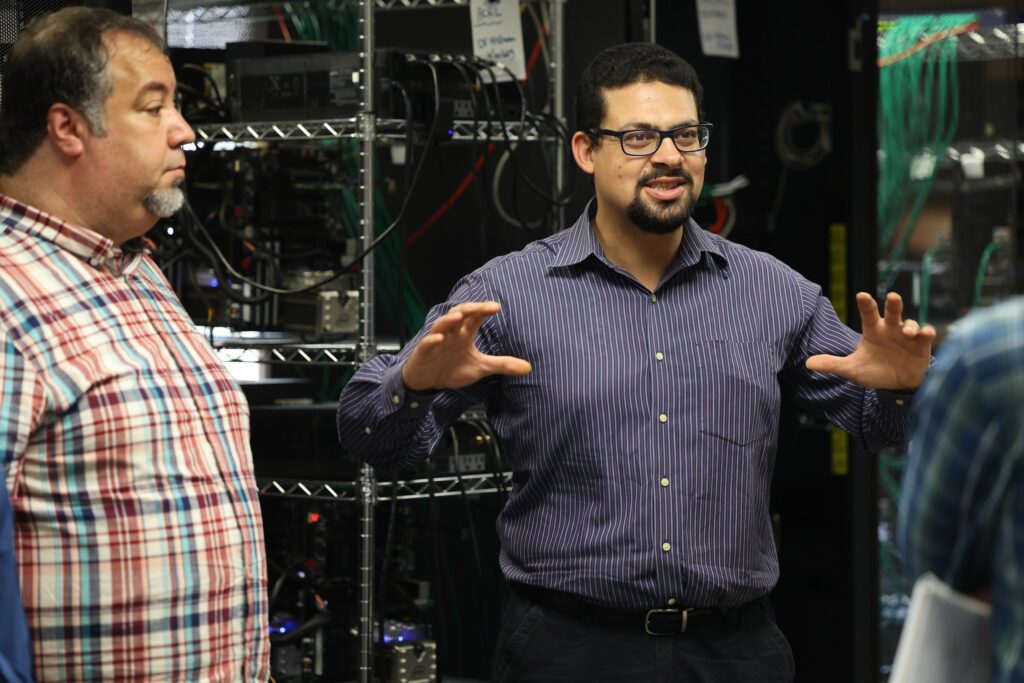 "It's an exciting time at SUNY Polytechnic Institute," said Officer-in-Charge Dr. Andrew Russell. "Our strong governmental and industrial partnerships, driven by our world-class faculty, continue to shape a vibrant future for the Mohawk Valley and New York State—and for our nation. This project, led by Dr. Kholidy, is a strong example of how SUNY Poly's growing reputation as New York State's premier public polytechnic is backed by our wide-ranging academic and research pursuits, including as a leader in cybersecurity research and applications nationwide."
"The DoD has a vital interest in advancing 5G-to-NextG wireless technologies and concept demonstrations," said Andrew Karam, senior scientist, AFRL. "These efforts represent our continuing investments via public and private sector collaboration on research & development for critical 5G technology enablers necessary to realize high performance, secure, and resilient network operations for the warfighter."
"Dr. Kholidy brings a wealth of highly relevant communications-focused knowledge to SUNY Poly and the College of Engineering," said Dr. Carpenter. "I applaud his hard work and look forward to seeing the results of this project, as well as the opportunities it will provide our students."
"The DoD is collaborating closely with the cybersecurity industry to advance 5G Open Architecture efforts. This important architecture provides an opportunity for the DoD to address its unique security needs, as well as security operations, within the global 5G ecosystem," said Dr. Kholidy. "I'm excited to get to work in addressing this critical need and would like to thank the AFRL for this contract, the SUNY Poly Research Office for providing assistance in submitting this project, and Interim Dean of the College of Engineering, Dr. Michael Carpenter, for his continuous support."
The project will support a Postdoc student and two research assistants who will be assisted by Dr. Kholidy in the implementation of the security framework, building the research testbed, collecting research data, presenting and demonstrating research output, and publishing research work on the subject. The project will also educate and involve students with interdisciplinary skills, including underrepresented minority students. This will be done by integrating projects covering information science, communication, cybersecurity, and autonomic computing, as well as developing a new cybersecurity course and a simulated 5G security testbed network, resulting in the development of highly skilled students in this critical area of national security.
Key contributions of this project include: improving the current 5G security testbed that was developed in collaboration with AFRL engineers to support the 5G open architecture network. This network is to become the first-of-its-kind "open 5G-federated testbed" supporting 5G multi-vendor and commercial service providers. This will help them develop innovative cybersecurity solutions and datasets with respect to this emerging global architecture. Such solutions and datasets will open the door for researchers to improve this new architecture. The project will also develop an intelligent Vulnerability Assessment Approach (VAA) to assess the security level of the new architecture. In addition, it will seek to develop a smart network slice provisioning framework to help orchestrate and manage 5G slices among multi-vendor and commercial service providers. 5G network slices are defined as network configuration that allows multiple networks to be created on top of a common 5G physical infrastructure.
SUNY Poly students are already actively involved in AFRL activities established by Dr. Kholidy. Through this project, he will have the option of dedicating lecture time on the testbeds by logging in remotely and showing practical scenarios to his students. This project will allow him to take these activities to the next level by developing interdisciplinary projects, in which graduate and undergraduate students will be paired together. Grad students would be able to assist undergraduates in obtaining a realistic understanding of graduate education and research methodologies.
Outreach activities targeting local schools that offer cybersecurity programs are also part of the project's plans, as is expanding existing SUNY Poly outreach programs to enhance cybersecurity awareness among high school students in Oneida County.