Wakeley Banker and Jae Fish Receive Chancellor's Award for Student Excellence 

SUNY Poly's Wakeley Banker and Jae Fish were recipients of this year's Chancellor's Award for Student Excellence.
Banker, a student-athlete, graduated in May with a degree in Mechanical Engineering and a minor in mathematics. In his time at SUNY Poly, he was captain of the men's soccer team, a teacher's assistant, and conducted undergraduate research. His topics of interest include computational modeling, machine learning, and heat transfer. Banker hopes to one day hold a research position in one of those fields. He recently began working for Lockheed Martin RMS in Syracuse as a systems engineer and plans to pursue further education in engineering.
Fish, a Sociology major with a minor in Criminal Justice, also walked across the stage in May. From previous positions as the student government director of advocacy and chief of staff to his reelection as president this past spring, Fish has worked toward student advocacy and the betterment of campus life. He was also an orientation advisor and a student ambassador working with new students and served as the Doctoral Granting Institutes' undergraduate representative for the SUNY Student Assembly, expanding SUNY Poly's student representation to a state level. In the future, he hopes to work with the New York State government, writing and researching policy.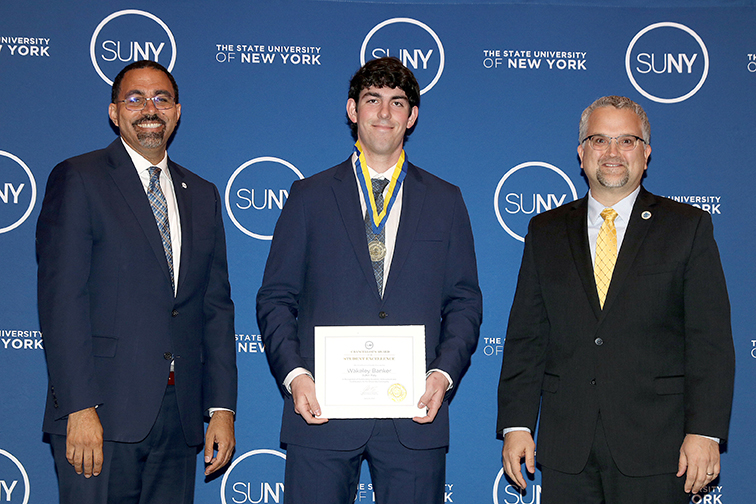 Established in 1997, the Chancellor's Award for Student Excellence (CASE) recognizes students for "outstanding achievements that have demonstrated the integration of SUNY excellence within many aspects of their lives in areas such as academics, leadership, campus involvement, community service, or the arts." It is the highest honor bestowed upon a student by the University.
A selection committee established by each SUNY campus, with the concurrence of the campus president, reviews the accomplishments of top-performing candidates. Nominees are forwarded to the Chancellor's Office for a second round of review, and finalists are recommended to the Chancellor to become recipients of the award.
Recipients of this prestigious award from across the SUNY System attended an awards ceremony at the Albany Capital Center on April 24.
"There is a place at SUNY for every New Yorker, and each of the students recognized today is an example of our extraordinary student body and their rich and diverse 'SUNY stories,'" said SUNY Chancellor John B. King Jr. "Student success is at the core of everything we do, and I am honored to celebrate students from 63 SUNY campuses who are receiving this year's Chancellor's Awards for Student Excellence. Every student can find their community at SUNY, and I congratulate each of the CASE winners for making the most out of their college experience."