SUNY Poly Team takes third at CREATE Symposium 

Two SUNY Poly senior Mechanical Engineering Students, Zachary Byrum and Luke Handerhan, made quite an impact at the recent NYSID (New York State Industries for the Disabled, Inc.) CREATE Symposium, as their project, done in collaboration with the Arc Oneida-Lewis Chapter, took home the $5,000 third place prize.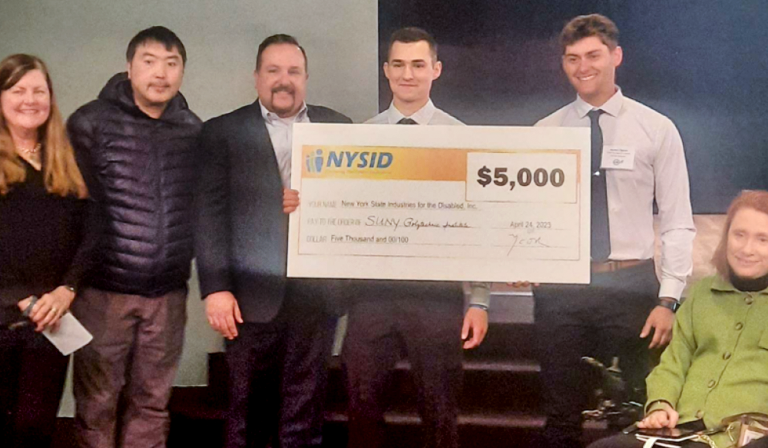 College engineering students from around the state demonstrated their inventions at the event. Byrum and Handerhan showed off their "Scrub Pad Cutter," which is a machine they created that cuts raw scouring pad material into circles of varying diameters and roughness. The project facilitates the Arc Oneida-Lewis Chapter's plans to employ up to five employees with disabilities in its own manufacturing setup to produce the scrub pads, rather than purchase pads from an outside source.
While some projects won monetary awards, all projects demonstrated at the CREATE Sympoisum will be utilized by the member organizations to assist individuals with disabilities.
A panel of community business leaders evaluated and scored the CREATE projects. Student teams competed to receive the prize funds, to be split between students, their universities, and their disability service provider organization partners. This year there were ten inventions from five colleges and six NYSID Member Agency disability service provider organizations that presented their assistive technology. Members of the NYS Legislature and business leaders also attended and spoke at CREATE.