New College of Health Sciences Educational Tool

SUNY Poly's College of Health Sciences, in collaboration with the College of Arts and Sciences, was gifted a synthetic cadaver to enable hands-on educational opportunities for students related to anatomical studies. 
Known by its brand name, SynDaver, the silicone health sciences educational tool is the result of four generous SUNY Poly Foundation donors: 
Gifted in Memory of a Remarkable Man
The Dorothy Griffin Foundation
The M&T Bank/Partners Trust Bank Charitable Fund (a donor-advised fund of The Community Foundation)
SUNY Performance Improvement Fund
The donors raised $74,658 to purchase the SynDaver over the course of several months and after two years of research as to what might be most beneficial to SUNY Poly students.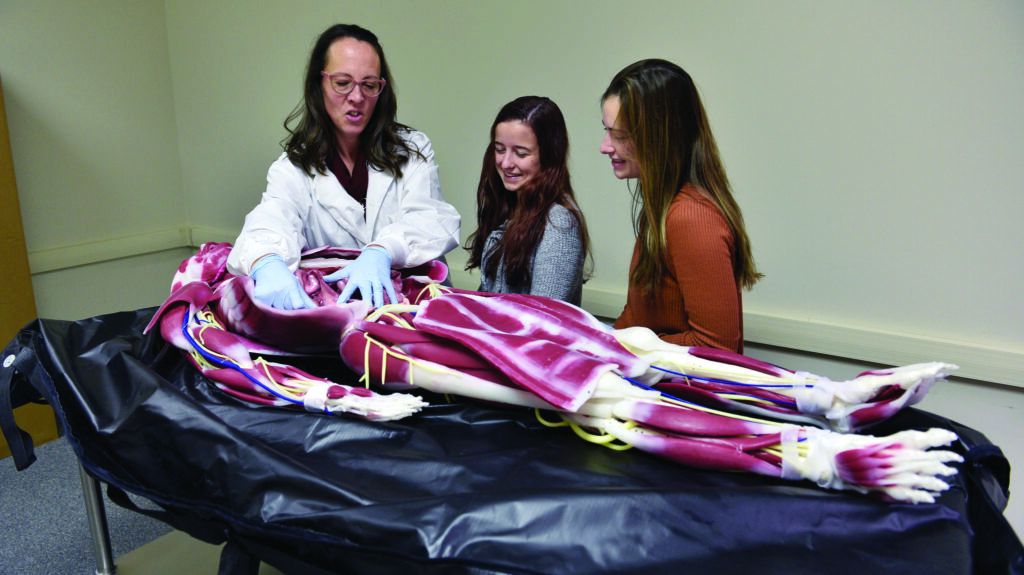 "The College of Health Sciences and the College of Arts and Sciences are truly grateful to the donors whose gifts have allowed SUNY Poly to offer state-of-the-art technology to students in the College of Health Sciences and beyond in acquiring this unique equipment that allows our students to gain a unique understanding of human anatomy," then-Interim Dean of the College of Health Sciences Dr. Kathleen Rourke said. "We are thrilled to have partnered with the donors in our efforts to advance our teaching resources with state-of-the-art equipment for education and training of nursing and health science students here at SUNY Poly."
"The SynDaver is a unique tool that we are proud to leverage for our students, and the College of Arts and Sciences is pleased to work with the College of Health Sciences to enable exciting hands-on educational opportunities," said Dr. Andrew Russell, Professor of History and Dean of the College of Arts and Sciences. "We are excited that the SynDaver provides a new opportunity for SUNY Poly students to learn in a collaborative, hands-on environment, and we are thankful to the donors who made this possible."
"On behalf of the SUNY Poly Foundation, we are incredibly appreciative for the generous support of our donors," said Andrea LaGatta, SUNY Poly's Assistant Vice President of Development. "Investments like this enhance our programs and provide our students and faculty with an opportunity to gain as close to a real-life experience as possible."
SUNY Poly's SynDaver life-sized model is one of the only a few in Upstate New York and includes modeling of major skeletal muscles, arteries, veins, and nerves. The education-grade synthetic human also includes bones, joints, organs, and tendons that simulate the size and shape of a real human body. Each of the anatomical structures are exposed to allow students to see the anatomical structures in their proper life-sized proportions.