Esports Arrives at SUNY Poly

Esports made its way to SUNY Poly in December 2019 when it announced membership with the Eastern College Athletic Conference (ECAC) to offer students a competitive alternative to more traditional collegiate sports.
Esports, which has grown rapidly over the past decade, has been adopted by several SUNY institutions and is reportedly expected to soon be a $1 billion industry.
---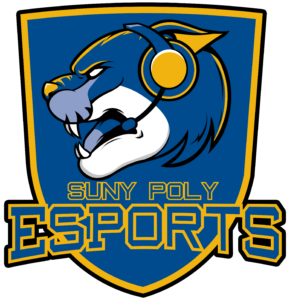 "We are thrilled to have a great program such as SUNY Poly join us as members," said Lydia Fister, ECAC's Director of Esports. "They have added great competition to the overall continued growth of our esports leagues. We are striving to provide and activate intercollegiate esports competition across college campuses, and we believe SUNY Poly is a perfect fit."
"The Center for Student Involvement is so excited to assist our students in pursuing their passion through esports," said Jennifer George, SUNY Poly's Associate Director of Student Activities. "Through this process, students are learning transferable employability skills to include program development, interpersonal communication, and organizational skills. We can't wait to see where this program goes in the future!"
SUNY Poly's adoption of esports was supported by sophomore Joseph Center, a Computer and Information Science major, who has been involved with esports competitions for nearly a decade.
"Not everyone is as interested in traditional sports as they are in esports games, so it definitely attracts a different type of person, especially at a technology-driven institution," he said. "Esports have many of the same aspects as traditional sports, particularly for people who are looking for an environment that still offers competition."
Games offered for students in the spring 2020 semester include Fortnite, Overwatch, FIFA, League of Legends, Super Smash Bros. Ultimate, Hearthstone, and Rocket League.
Joseph Center's esports video.