New Inventions Designed for Individuals with Disabilities in the Workplace 

SUNY Poly Team to Demonstrate "Scrub Pad Cutter" to Improve Scrub Pad Production Process for the Arc Oneida-Lewis Chapter
NYSID (New York State Industries for the Disabled, Inc.), has announced the 2023 CREATE (Cultivating Resources for Employment with Assistive Technology) Symposium where college engineering students collaborate with rehabilitative support organizations to develop innovations that help those with disabilities succeed in their jobs. The event, open to the public, will take place on Monday, April 24, in Meeting Room 6 of the North Concourse/Empire State Plaza from 10:00 a.m. to 2:00 p.m. This will be its ninth year.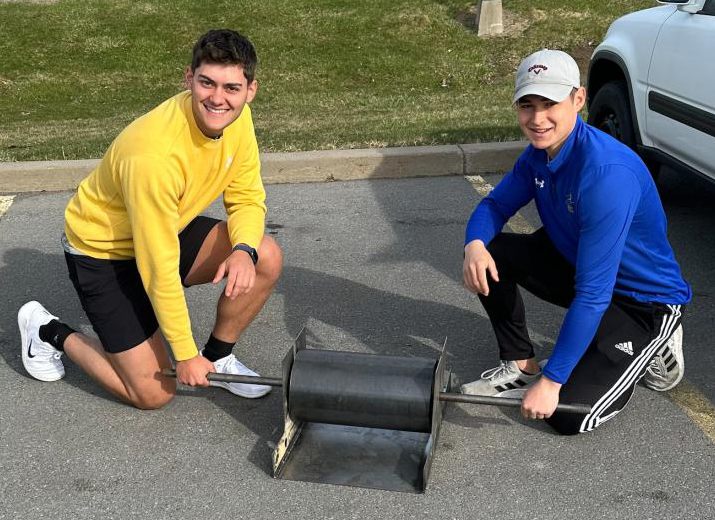 College engineering students from around the state will demonstrate their inventions, including a SUNY Poly team comprised of senior-year mechanical engineering students Zachary Byrum and Luke Handerhan who created the Scrub Pad Cutter. The machine cuts raw scouring pad material into circles of varying diameters and roughness, which facilitates the Arc Oneida-Lewis Chapter's plans to employ up to five employees with disabilities in its own manufacturing setup to produce the scrub pads, rather than purchase pads from an outside source. Descriptions of the competing projects are included below.
A panel of community business leaders will evaluate and score the CREATE projects. Student teams will compete to receive prize funds worth $15,000 dollars, $10,000 dollars, or $5,000 dollars, to be split between students, their universities, and their rehabilitation organization partners. This year, there are ten inventions from five colleges and six NYSID member rehabilitation organizations each presenting their assistive technology. Members of the NYS Legislature and business leaders will attend and speak at CREATE.
"The CREATE Symposium is all about making a significant impact on the lives of others. It highlights what we do at NYSID and allows college students to create inventions to help individuals with disabilities become more employable," said Maureen O'Brien, CEO of NYSID. "In New York State we still have a very high unemployment rate for individuals with disabilities and this shouldn't be the case. Many individuals with disabilities are able to work and contribute to our state economy."
Colleges/NYSID member agencies/inventions include:
SUNY Polytechnic Institute/The Arc Oneida-Lewis Chapter
Scrub Pad Cutter: This machine will be able to cut raw scouring pad material into circles of varying diameters and roughness. The Arc intends to employ four to five employees with disabilities in its own manufacturing setup to produce the scrub pads rather than purchase pads from an outside source. The objective of this project is to create a cutting process that will facilitate the work of employees with disabilities and reduce the waste of the raw materials.
The City College of New York/Goodwill Industries of Greater New York/Northern New Jersey, Inc.
Nusketch: Nusketch is an app that provides an alternate form of communication through art for users with autism spectrum disorder (ASD). The solution allows users to experience artistic and communicative growth by taking pictures and converting them into a traceable sketch, which can then be colored. The app allows users to create visual cards of objects and concepts, providing people with ASD with a visual way to communicate. Nusketch could be used to assist employers with the job training process through visuals instead of standard user manuals and packets.
Productify: Productify is an easy-to-access app that allows users with disabilities to enhance engagement and productivity through quick note-taking. Time tracking and reminders of upcoming responsibilities will help users with time management. The app utilizes a cross-platform framework. To create a synchronization feature, a backend such as Google Cloud or Firebase will be utilized.
SiGHT: This iOS app is made to help people with blindness and low vision navigate the world. It is designed to warn the user of obstacles on their path using haptic alerts on an iOS device, paired with an add-on sleeve for a white cane that will vibrate to alert users of obstacles.
WalkIT: This app-based solution helps people with autism spectrum disorder (ASD) and social anxiety disorder (SAD) overcome their social stressors in a progressive manner. It provides a long-term, goal-based plan that helps people with ASD and SAD explore their neighborhood by walking independently to increase their distance and comfort outdoors over time to improve the odds of becoming employed. The app will be equipped with advanced navigation features including verbal assistance and calm music specially designed for people with ASD and SAD.
Manhattan College/Constructive Partnerships Unlimited
High-Res Headband Document Scanner & Transmitter: This device will allow individuals with specific physical disabilities, such as Parkinson's or those with limited fine motor skills, to be able to scan documents in an office setting, particularly through CPU's Smile Farm partnership.
Smart Register: Constructive Partnerships Unlimited has a location in the Bronx that operates a cafeteria. The workers with disabilities at this location have trouble using the cash register. The Member Agency partner requested that the team further develop a Smart Register that had been originally designed during the 2021-2022 CREATE program year. The team plans on using a system to scan currency with a camera. The system will recognize the currency and upload it to a touchscreen panel that is connected to an application. The application will then compute the change the worker needs to give to the customer.
New York Institute of Technology (NYIT)/AHRC Nassau
Intelligent Glue Gun: This high-technology glue gun will limit risks to workers with disabilities using a digital safety checklist before use, a nontoxic chemical mixture and curing method as an adhesive, and a smart control system that prevents unauthorized use of the glue gun.
New York Institute of Technology (NYIT)/Spectrum Designs Foundation
Xpress Assist 2.0: This is an enhancement of the current Xpress Assist prototype that began development in the 2019-2020 CREATE program year. It allows employees with autism spectrum disorder (ASD) to communicate with Spectrum's management staff with a push of a button or the touch of a screen. The device will help track individual employee needs as well as aid in the identification of the employee's daily work assignments using visual cues.
SUNY Albany/Center for Disability Services
Automated Ream Opener: Center for Disability Services' Mail Fulfillment Center processes enormous amounts of mail per day for New York State agency customers. It uses an estimated 50,000-100,000 pieces of paper per day. This paper is manually opened from reams of paper containing 500 sheets each, approximately 100-200 reams of paper opened per day. The Center would like to hire people with disabilities to open the reams of paper, but this is difficult due to physical dexterity issues and the frequency of paper cuts the workers with disabilities often suffer when trying to do this job. The goal of this project is to develop a system that automatically opens reams of paper in a safe and effective way.
2023 Judges Include:
Courtney Skivington-Wolf, RN – Chief Operating Officer, Care Design NY and its managed care affiliate, Partners Health Plan (PHP)
Margaret Duffy, Senior Director, Government Relations, Medicaid Plan Operations, Elevance Health
Heather Briccetti Mulligan, President and CEO, The Business Council of New York State, Inc.
Michael Seereiter, President and CEO, New York Alliance for Inclusion and Innovation (New York Alliance)
Andy Grosso, Founder, CREATE
John Robinson, CEO, Our Ability, Inc.
Nicole Dorr, Janitorial Worker and William B. Joslin Outstanding Performer, Warren, Washington & Albany Counties ARC
More information about the event is provided below:
WHEN:
Monday, April 24, 2023
10:30 a.m. – Media presentation
10:00 a.m. – 2:00 p.m. – Inventions are showcased
WHERE:
Empire State Plaza/North Concourse
Meeting Room 6
Albany, NY
WHO: 
*Maureen O'Brien, President & CEO of NYSID 
*Assemblymember Chris Burdick (D-Westchester) 
*Assemblymember Patricia Fahy (D-Albany) 
*Capital Region Business Leaders 
*Engineering Students and Professors from CUNY City College, Manhattan College, New York Institute of Technology, SUNY Albany, and SUNY Polytechnic Institute