SUNY Chancellor John B. King Visits Campus 

State University of New York Chancellor John B. King Jr.'s 64-campus tour made a stop at SUNY Poly in March. During his three-hour visit, he engaged in conversations with campus community members and highlighted future opportunities for the institute.
Kicking off the day, the Chancellor received a tour led by Interim Dean of the College of Engineering Dr. Michael Carpenter, where they explored the Center for Global Advanced Manufacturing (CGAM) in Donovan Hall, where students and faculty had the opportunity to share their ongoing research and projects.
As part of the tour, the Chancellor met with members of SUNY Poly's chapter of the Academy of Model Aeronautics and local non-profit CNY Drones, where he learned about Drone Soccer, an increasingly popular Esports program. In the 3D printing lab, Chancellor King met with local high school students who are part of the FTC FIRST Robotics team MUCC Bots. In addition, Chancellor King met with the Women in Engineering club , along with members of the SAE Baja club and the ASCE bridge-building teams.
After lunch, Chancellor King held a roundtable discussion with students representing EOP, CSTEP, student government, athletics, and the four colleges: College of Health Sciences, College of Business, College of Engineering, and College of Arts & Sciences.
Communication and Information Design major Giovanni Harvey was excited to participate in the discussion.
"My experience meeting the chancellor was inspiring and impactful," said Harvey. "Anytime I'm in a room with my fellow students and student leaders, encouraged by the work they do every day to make our campus a place that students thrive in. It was also empowering to have the ear of the chancellor and to dialogue about the things that matter the most to us as wildcats."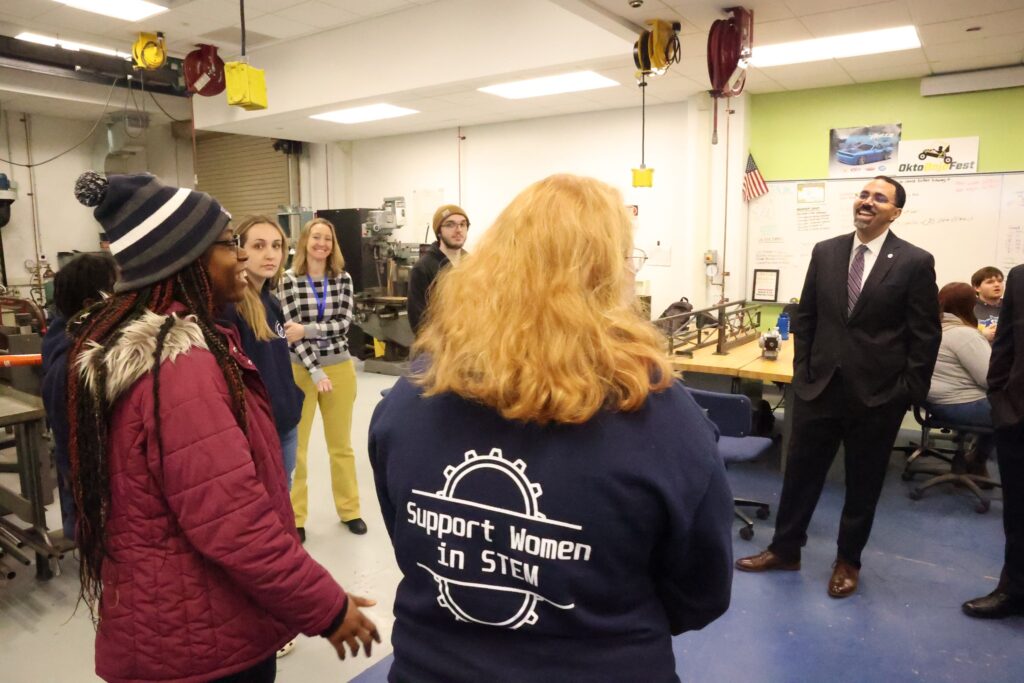 The Chancellor then met with Dr. Kathryn Stam, Professor of Anthropology, who provided a brief overview of the "Portraits of Hope" exhibit in the Cayan Library. She was joined by Kay Klo, a refugee and current graduate student in IDT at SUNY Poly, who is also the Executive Director of the Midtown Utica Community Center (MUCC). The digital exhibit can be found here.
Wrapping up the day's events, Chancellor King, SUNY Poly Officer-in-Charge Dr. Andrew Russell, and College Council Chair RoAnn Destito joined New York State Senator Joe Griffo, Assemblywoman Marianne Buttenschon, and Oneida County Executive Anthony Picente for a news conference, touting a bright future for SUNY Poly.
"I want to be clear," said Chancellor King to the assembled crowd. "SUNY Poly has the support of the Governor, the SUNY Board of Trustees, and all of us at SUNY System to take this campus to new heights."