SUNY Poly Launches Campaign to Honor Kevin Grimmer 

Establishes Fund to Provide Additional Resources/Support to Wildcat Student- Athletes and Renames Campus Center Basketball Court After Beloved Former Athletic Director/Coach Recently Diagnosed with ALS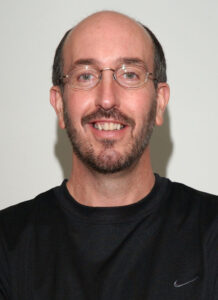 SUNY Poly has announced a campaign to honor beloved former Athletic Director and Coach Kevin Grimmer, who was diagnosed with ALS shortly after retiring from the Institute following nearly four decades of dedicated service. The Kevin Grimmer Fund for Wildcat Athletics has been established to accept charitable contributions in his honor, which will provide SUNY Poly Wildcat student-athletes with additional support and resources. In recognition of this campaign, which has a fundraising goal of $135,000, the basketball court in the Campus Center was renamed "The Kevin Grimmer Court at the Campus Center" in perpetuity during a dedication ceremony in September.
"Coach Grimmer is a legend, at SUNY Poly and in the Mohawk Valley. His impact results from his many contributions to our athletics program and is evident in the thousands of student-athletes he supported through coaching and in his role as Athletic Director," said Officer-in-Charge Dr. Andrew Russell. "I can think of no one more deserving of this honor, and I look forward to watching our Wildcats play on The Kevin Grimmer Court at Campus Center in the decades to come."
  "I've been overwhelmed by the tremendous support and love shown to me and my family during this challenging time," said Grimmer. "I worked my best to ensure our Wildcat Athletics program and facilities were amongst the nation's finest, and it is an amazing tribute to my family name that it will be honored on our home court forever."
In 1984, Grimmer began his accomplished career at then State University of New York College of Technology, located in the old Globe Mill building on Court Street, as a part-time intramural assistant and assistant men's basketball coach. He would retire from SUNY Poly as the Institute's athletic director after 37 years at the university where he coached men's and women's basketball, as well as volleyball, and spent 14 years as a sports information director.
Grimmer also contributed to several significant upgrades to the university's athletics program. This included overseeing the planning and construction of the $20 million Wildcat Field House, a turf field with lights, new baseball field and improved softball field, as well as assisting with the planning of the upcoming $25 million renovation project at the Campus Center prior to his retirement.
He is also responsible for adding the sports of men's and women's volleyball, women's lacrosse, and women's soccer while shaping the SUNY Poly athletics program, which now has a roster of 13 NCAA sports. Grimmer served as president of the State University of New York Athletic Conference (SUNYAC) and the North East Athletic Conference (NEAC) Board of Athletic Directors, as well as a member of the executive committee for both conferences for many years.
Accomplishments revisited
Grimmer was a stand-out basketball player at nearby Notre Dame High School and at Hamilton College where he was named an NCAA III All-American in 1981. Grimmer played professionally in the English National Basketball Association from 1981-82 and even helped coach the club's junior league team.
 In 1985, Grimmer was hired as the full-time assistant director of athletics, before taking the helm as athletic director in 2000. He continued to coach basketball until 2014.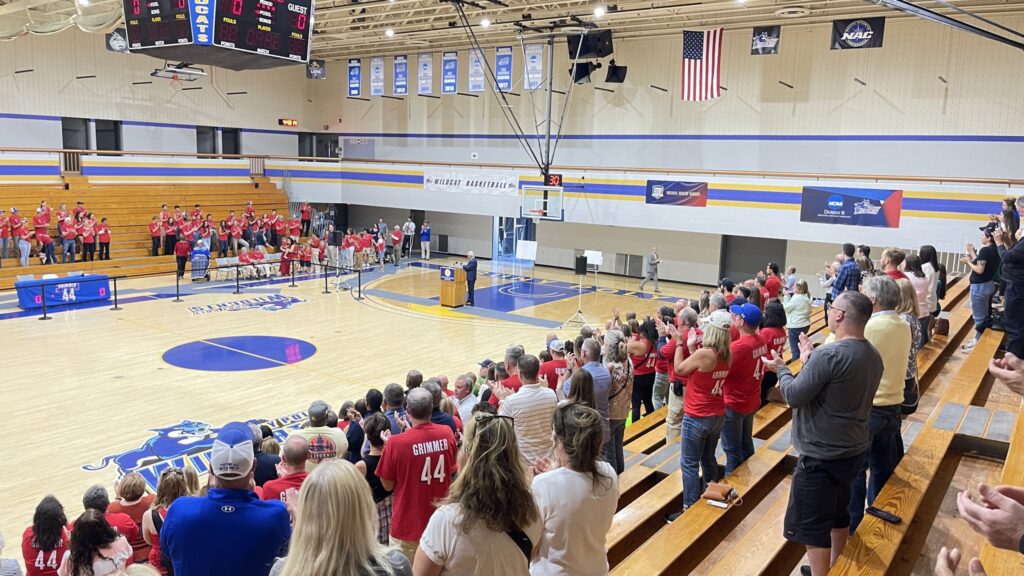 Grimmer spent five seasons as an assistant coach with the men's basketball team before taking over a women's basketball program that had compiled a 39-118 record. Under his tutelage, the program's trajectory shifted upwards as Grimmer quickly built a winning culture over six seasons and the Lady Wildcats joined the challenging SUNYAC. The women's basketball team became the first Wildcat team to qualify for the SUNYAC postseason championship.
He would return to the men's basketball program in 1994 as head coach, establishing it as a powerhouse in the SUNYAC. They earned berths to six conference championship and three Eastern College Athletic Conference (ECAC) championship tournaments.
 After guiding a transition to the NEAC in 2008, SUNY Poly won the conference's President's Cup for best overall sports program in three consecutive years. The 2008-09 men's basketball team also won the college's first conference championship and became the first to ever qualify for an NCAA championship berth.
In 2009-10, Grimmer's Wildcats won their second straight NEAC championship with a program-best 26-5 record and the team's second consecutive appearance in the NCAA III Men's Basketball Championship where they advanced to the Sweet 16. That marks the furthest any SUNY Poly team has advanced in NCAA postseason play. Grimmer earned four coach of the year honors after that season, including the NCAA III East Region Men's Basketball Coach of the Year. 
 Grimmer received the SUNY Chancellor's Award for Excellence in Professional Service in 2012, and he has been inducted into both the Greater Utica Area Sports Hall of Fame and the Notre Dame Juggler Hall of Fame. His Hamilton College jersey was also raised to the rafters of the Margaret Bundy Scott Field House in a ceremony celebrating Continental Basketball All-Americans.
Both of Grimmer's sons played important roles in those championship teams: Nick (SUNY Poly '05), a standout basketball player in his own right, served as assistant coach while Alex (SUNY Poly '12) played on the storied 2009-10 Wildcats' team.
Grimmer's daughter Megan was an All-American field hockey player at Nazareth College, and Grimmer and his wife Sheila have been married for over 40 years.
 Just before retirement in 2020, Grimmer shepherded the SUNY Poly sports program to membership in the North Atlantic Conference, where the Wildcats' men's lacrosse team quickly captured an NAC Conference Championship and NCAA Tournament berth.
To find out more about the Kevin Grimmer Fund for Wildcat Athletics, visit www.sunypoly.edu/grimmer or contact SUNY Poly Assistant Vice President of Development Andrea LaGatta at andrea.lagatta@sunypoly.edu.