Graduate Student Erica Graham Wins '3 Minute Thesis' Competition to Face Students Across North America

Erica Graham, a graduate student attending classes at SUNY Polytechnic Institute (SUNY Poly) to earn her Ph.D. degree in Nanoscale Engineering, competed in the 2020 Northeast Association of Graduate Schools' (NAGS) Three Minute Thesis (3MT) competition Wednesday, December 9. The challenge—condensing five years worth of graduate research into a three-minute presentation provided to judges who consider each participant's ability to succinctly convey their research while being engaging, relatable, and enthusiastic.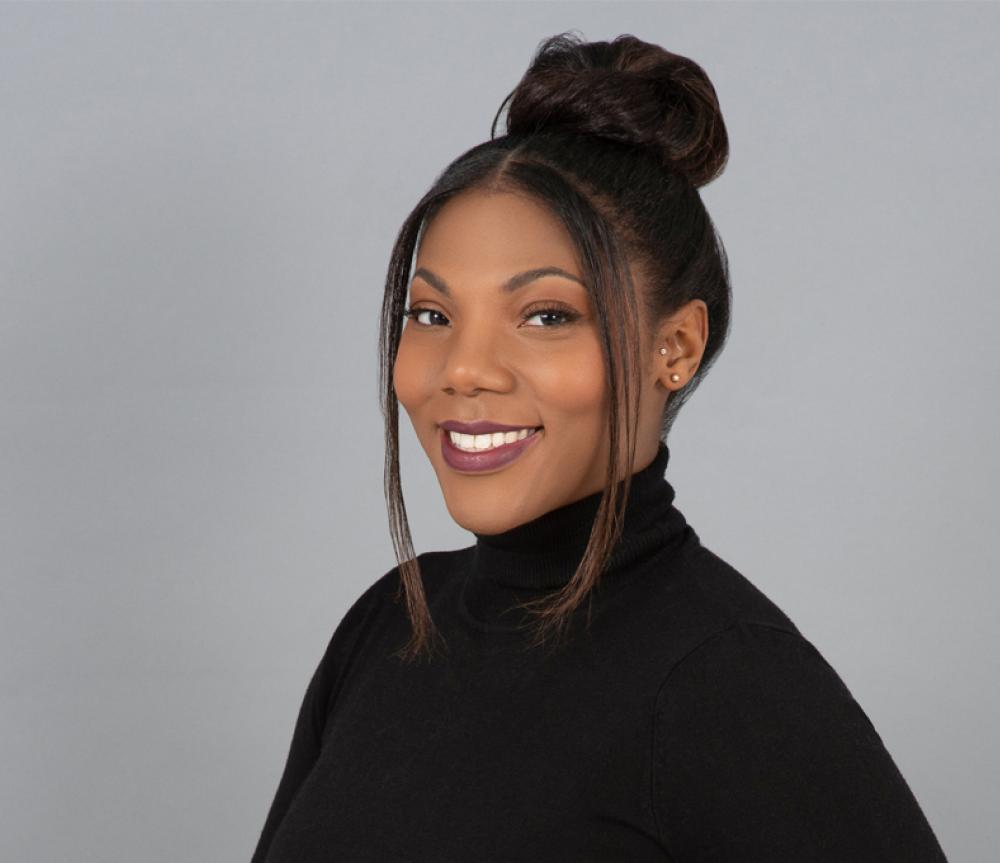 With a zest for research and strong interpersonal skills, she took home 2nd place in the regional competition, presenting, "How Close is Too Close?" against 20 other graduate researchers who had won 1st place in 3MT competitions from their respective universities in the northeast, just as she had won 1st place in the local competition hosted by the University at Albany in March. You can view her full regional presentation here, which starts at 1:35:46.
"I would like to say thank you to both SUNY Poly Interim Vice President of Research and Graduate Studies Dr. Shadi Shahedipour-Sandvik and SUNY Poly College of Nanoscale Science and Engineering Interim Dean André Melendez for sending uplifting messages throughout the event and being in the virtual audience to support me. I truly feel that the SUNY Poly administration is personally invested in the achievements of each student."
Next, Erica will compete in the National 3MT competition hosted by the Council of Graduate Schools (CGS), competing against graduate students from across the US and Canada for the chance to win $1,500. The event will take place virtually Feb. 3, 2021, when she will provide a live version of her 3MT presentation and participate in a virtual roundtable with other students to discuss their experiences preparing for and participating in the 3MT.
"It has been an exhilarating experience. The process of earning a Ph.D. at its core is a collection of acquired skills culminating in the finite advancement of one's field of study. The ability to adequately convey scientific research to a non-specialistic audience was always a difficult skill for me to master, but a very important one nonetheless," Erica said. "Placing in this competition, which was as much about technical acumen as it was about stage presence, validates that I have indeed developed the skill to effectively communicate scientific information and captivate an audience while I do so."
Erica's work focuses on the field of silicon photonics, which involves creating, processing, and detecting light for use in data communications, high-performance computing, self-driving vehicles, and bio-sensing. The manufacturing of silicon photonic devices is where her research comes into play. Stress-induced fabrication variations can cause performance shifts in the photonic devices and overall system when optical devices are placed too close to metal wiring. By using numerical modeling and optical testing, she can quantify these shifts and implement design rules to eliminate the performance shift.
"Unlike presenting at a conference or defending a dissertation, this was more like being the lead actress in a play," Erica said. "Submitting publications to journals and attending conferences reaches a limited audience whose members are already familiar with my overarching research topic. However, speaking to an audience with varied academic backgrounds enabled me to reach a greater mass of individuals who would not have otherwise been introduced to the topic of photonics and its influence in their everyday lives."
Erica has bachelor's and master's degrees in mechanical engineering from Stony Brook University (SUNY). After graduating with her Ph.D. from the University at Albany, she plans to continue leading and collaborating with other researchers to advance the field of silicon photonics by developing new and emerging applications while concurrently inspiring the next generation of STEM professionals who may otherwise not be aware of the field. Semiconductor Digest also recently highlighted her research and academic path in the article, "Erica Graham: An AIM Photonics Journey."