Alumnus Donates Trailer to Support Baja Club Travel

The SUNY Poly Baja Club designs, builds, and races robust, off-road vehicles each year. Also known as the SUNY Poly Baja SAE Wildcat Motorsports Team, the club offers an incredible, hands-on learning experience for students that not only provides them with engineering skills, but also culminates in plenty of fun at competitions and events.
But getting the vehicles to each event is often a challenge – until now.
Curtis Jackson '16, a former Baja Club member, reached out to the club with a top-of-the-line solution for getting the Baja cars where they need to be, donating a 20′ aluminum snowmobile trailer. It's insulated and comes with a helmet rack, loading lights, 110-volt wiring, wall tie-down rails, and more.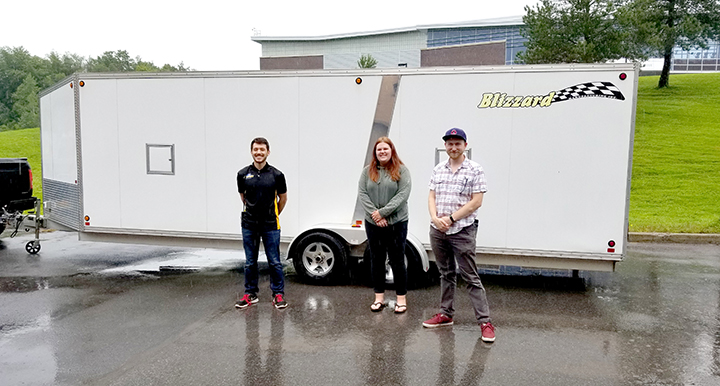 "We plan on using the trailer to transport the Baja club's vehicles and tools to competitions and other events," said James Harvey, Baja Club President (on left in photo; Haley Couch, club vice president is pictured in the center; with Curtis Jackson pictured on the right).
"The club is extremely grateful for the gift and would like to express our utmost thanks," continued Harvey. "It means a lot to the club since it is often challenging to find a way to transport the club's vehicles and tools. It is one less thing we'll have to worry about this year when preparing for Competition."
For more information about the club, visit: http://people.sunypoly.edu/~huertak/baja.html